Traditional Indigenous Recipes
Corn Soup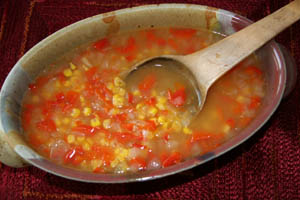 Corn soup can be made in a variety of ways. One of the most popular methods is to use cream and/or milk. This recipe does not use dairy products and is therefore light and a good dish for dieters.

Ingredients:
3 cups
vegetable or turkey or chicken stock
(milk* can be used for thicker soup)
4 cups sweet corn (grilled is best, but if you use canned, be sure to rinse and drain); flint corn will give a more "earthy" flavor
1 large chopped orange or red bell pepper
1 chopped white onion
2 T vegetable oil
Black pepper and salt to taste. The type of stock you use will determine the saltiness of the dish.
*garlic to taste
Heat 2 T vegetable oil (or 3 T of vegetable stock) to medium heat in frying pan. When hot, add onion, pepper, and corn and sauté about 6-8 minutes or until tender.
After sautéing, add to food processor and mix with stock until mixture is desired consistency (we like chunkier at our house)
You can add additional sliced peppers on top as garnish for a pretty presentation.
*Old World ingredient