Ponds
An easy way to attract wildlife to your yard is to dig a pond. You'll need a shovel (or two if you have a helper), a heavy steel pry bar if you have underground rocks, strong backs, work gloves, plastic liner (you buy it at a pond store), rocks to go around the edges (flagstone is best), plants for the edges. Many plants will spring up on their own. The animals will appear by themselves. A backyard pond adds beauty, attracts wildlife and provides a serene spot to watch frogs and birds and to follow the growth of lilies, cattails, and milkweed.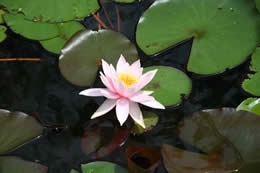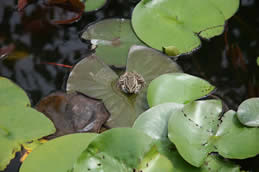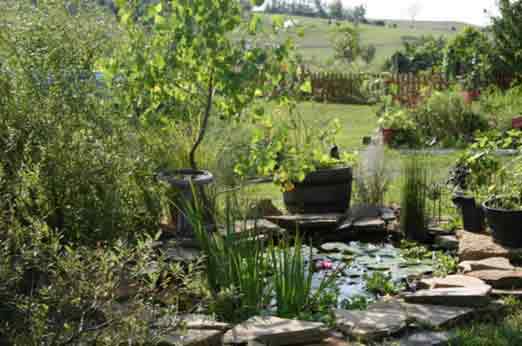 Our small pond has no pump and is eight feet long and five feet wide. It is filled by rainwater but you can use the garden hose. The bottom is shelved, with the deepest area only three feet deep. Pots of lilies and horsetails sit on the two-and one-foot shelves. 
Below: A close up of the pond plants. They grow so fast I have to thin them throughout July-September.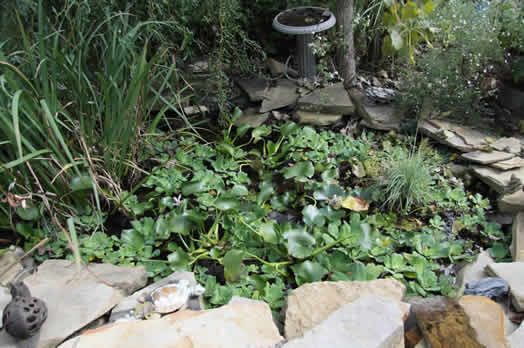 A small 1.5 foot x 3 ft. bog is on the north end.
No pump is used, yet the pond stays clean and I refill evaporated water with water from the hose (the water treated to remove chlorine and other additives).
 
From a bare spot…
To a pond that is surrounded by cannas (red blooms), a small willow bush, millet, milkweed, and pots of sweet potato vines. I dug this pond in two digging sessions of about two hours each--my son chipped in for a few minutes. You can create the shape and depth you want.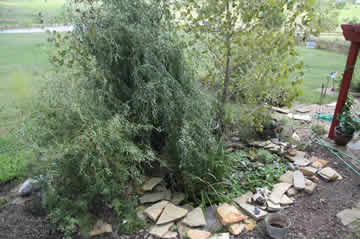 The same pond, three years later. The cottonwood tree popped up by itself. I planted the fast-growing willows. The birdbath is now obscured.

Winter view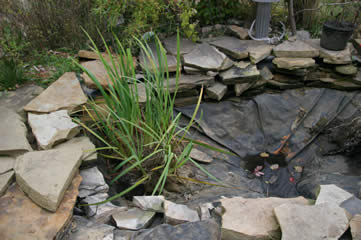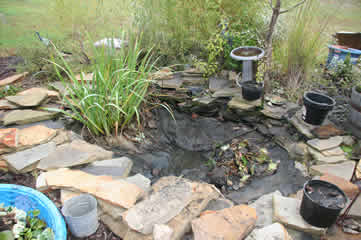 Here is the pond, drained Halloween weekend 2008. We brought in tiny frogs for the winter and put the big frogs in the large pond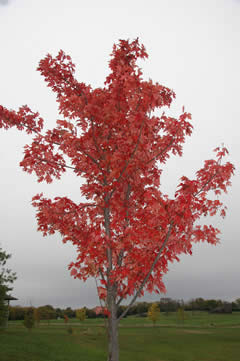 The maple tree next to the pond, Oct. 30, 08
 
June. Looking to the south, you can see the broccoli, cabbage and strawberry garden; beyond that are the raised gardens (with the red tomato tipis) and the larger 60 x 20 garden beyond the trampoline.
TOP OF PAGE