Recipes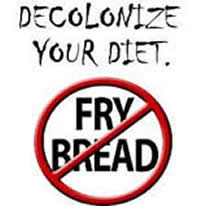 The slogan "Decolonize Your Diet" and the bumper stickers, pins, aprons, clocks, hats, etc. with the Anti-fry bread logo was created by me in 2000 and is at Cafe Press.

Truly "traditional" indigenous recipes contain no Old World foods, and that means no fry bread, pasta, pies, cakes, nor any other dish containing wheat, flour, domestic sheep (not bighorn sheep--Ovis canadensis), beef, pigs, goats, milk, cheese, chicken, or butter.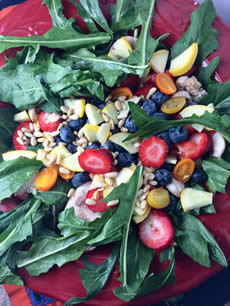 Dandilion greens, strawberries, blueberries, mushrooms, yellow squash, tomatoes and pinon pine nuts.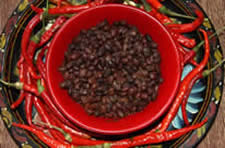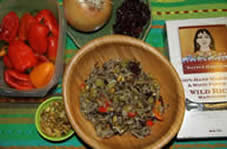 above: Black beans and chilies; wild rice and vegetables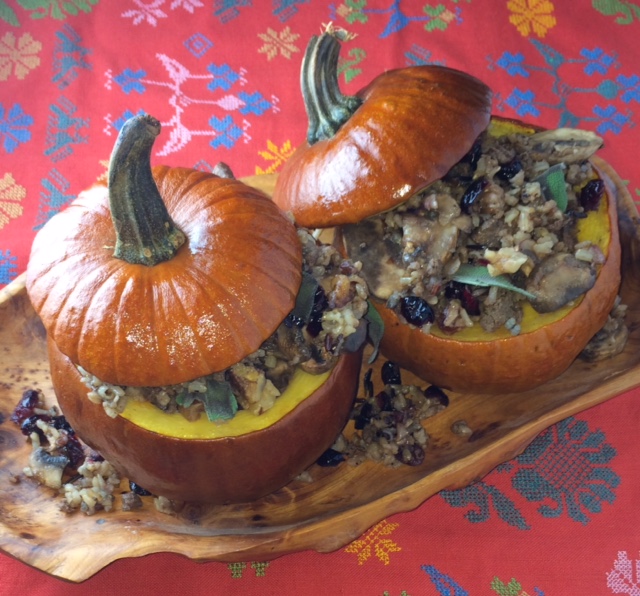 above: Venison, squash, sage, mushroom, and rice-stuffed pumpkins
below left: Enchiladas; rt: bison roast with non-indigenous carrots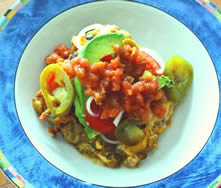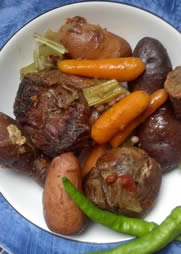 SUGGESTIONS FOR DIABETICS (click)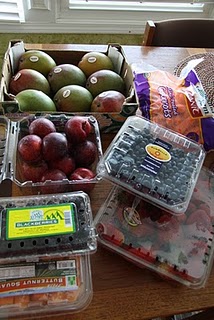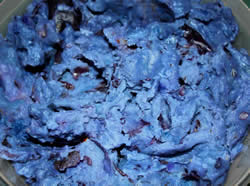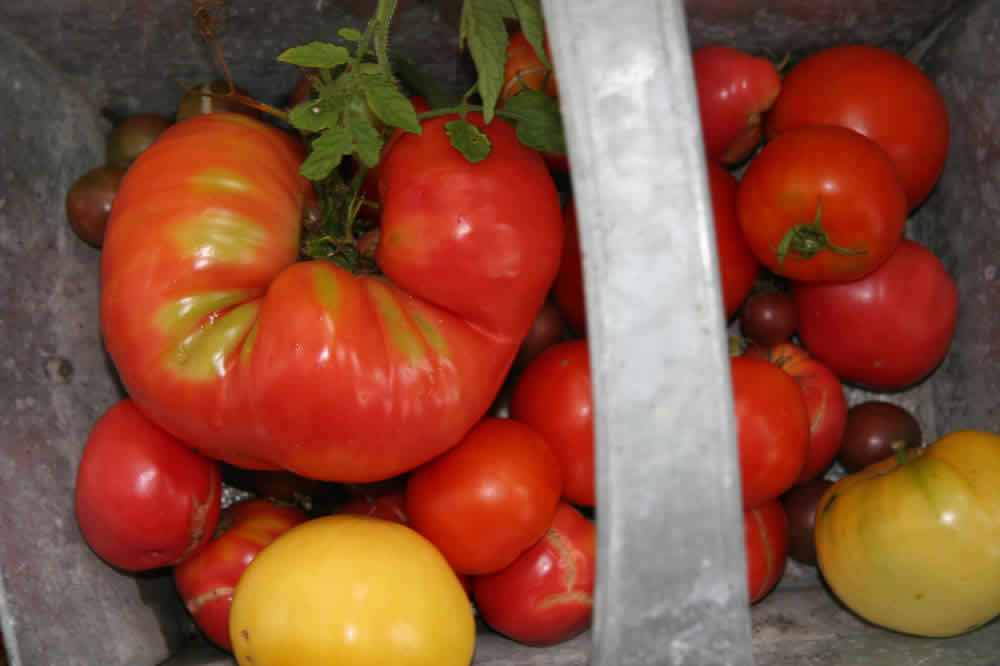 above: A haul of fruits, mashed purple potatoes and garden tomatoes
Buy Fresh Foods! Grow Your Own!
Plants such as asparagus, broccoli, garlic, Brussels sprouts and apples are Old World foods. Black-eyed Peas are indigenous to Africa. Many other dishes might be termed "American Indian foods," but only because Indians did eat them; many of those recipes contain foods that indigenous people did not have until contact with the colonizers. For examples, green chili stew or posole with ham, and mutton stew are not truly traditional because swine and domestic sheep are Old World animals. Many Bannock bread recipes are made with flour. A lot of "traditional" wojapi recipes are merely some fruit mixed with flour and large amounts of sugar.
What's in your fridge?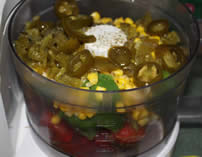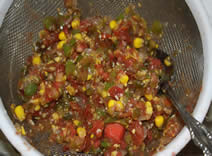 Make your own salsa
Grow your own food! My onions and carrots (non-indigenous), June 2011. right Hank and corn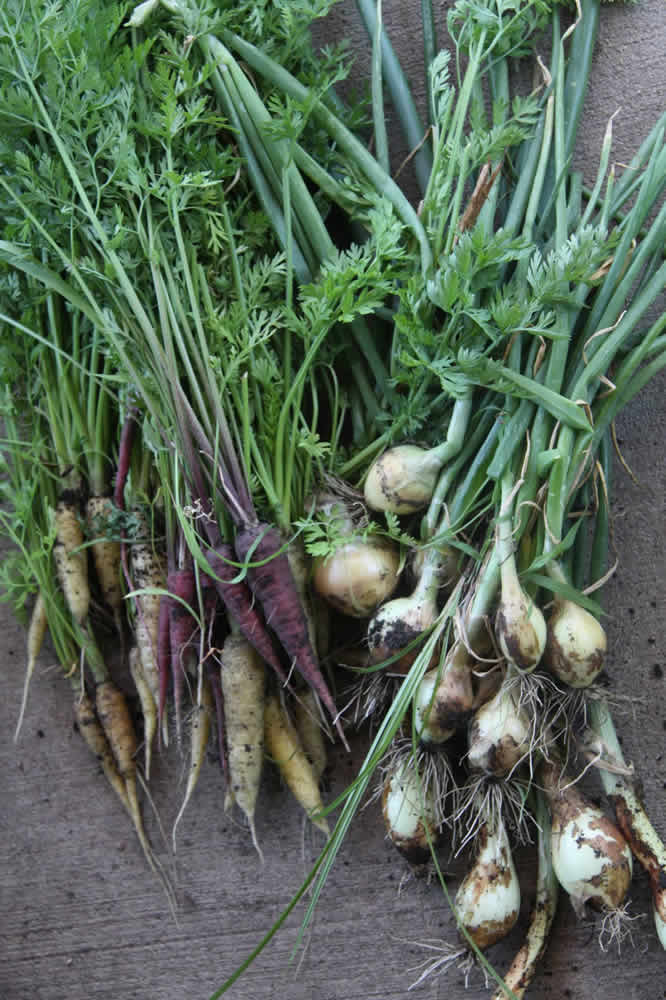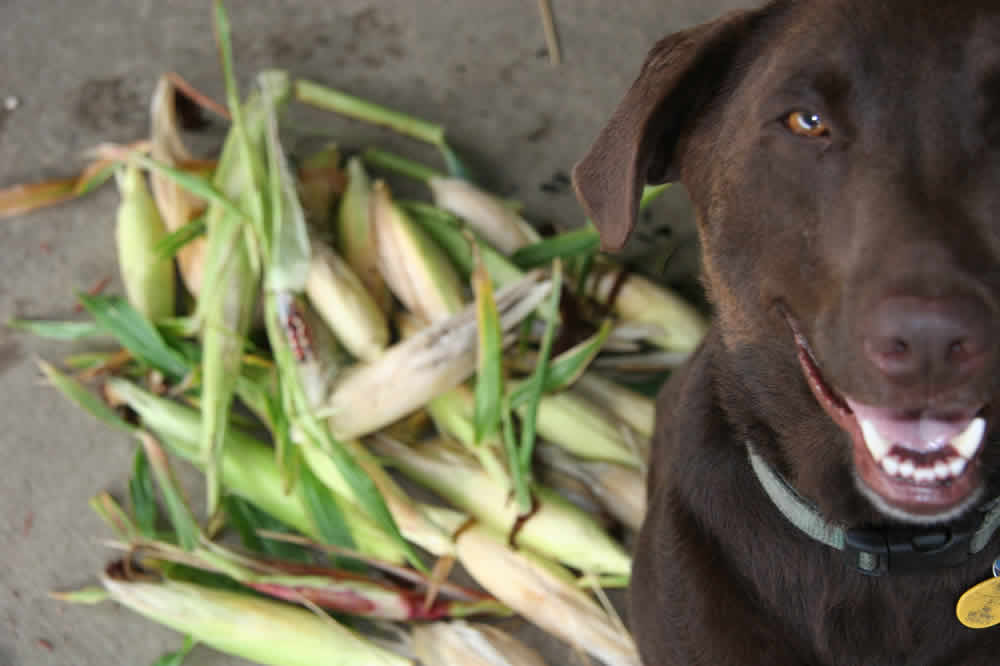 Some web sites contain "authentic," "real" or "traditional" American Indian/Native American/Indigenous dishes that contain flour or any other Old World plant or animal. On this site, "traditional" means customs practiced prior to contact with Europeans.
Many indigenous recipes here could be labeled "Semi-Traditional Indigenous Recipes" because they are primarily comprised of traditional, New World ingredients, but with small amounts of Old World ingredients. Old World ingredients are marked with an asterisk*.
Because of the nature of this site—to improve the health of indigenous peoples—there are no fry bread recipes, nor any other fried foods (French Fries, fried chicken, etc.). You also will not find cakes, pies, cookies, fritters or any other processed foods that contain large amount of refined sugar and white flour.
Fry bread on this site refers to fried white flour that most readers have encountered at Native events. It does not refer to breads made by tribes before the introduction of wheat, such as: corn, shuck, sour, persimmon, acorn, hickory, sunflower, pumpkin seed, potato, bean, mesquite, peanut, bamboo vine, camas, or cane breads.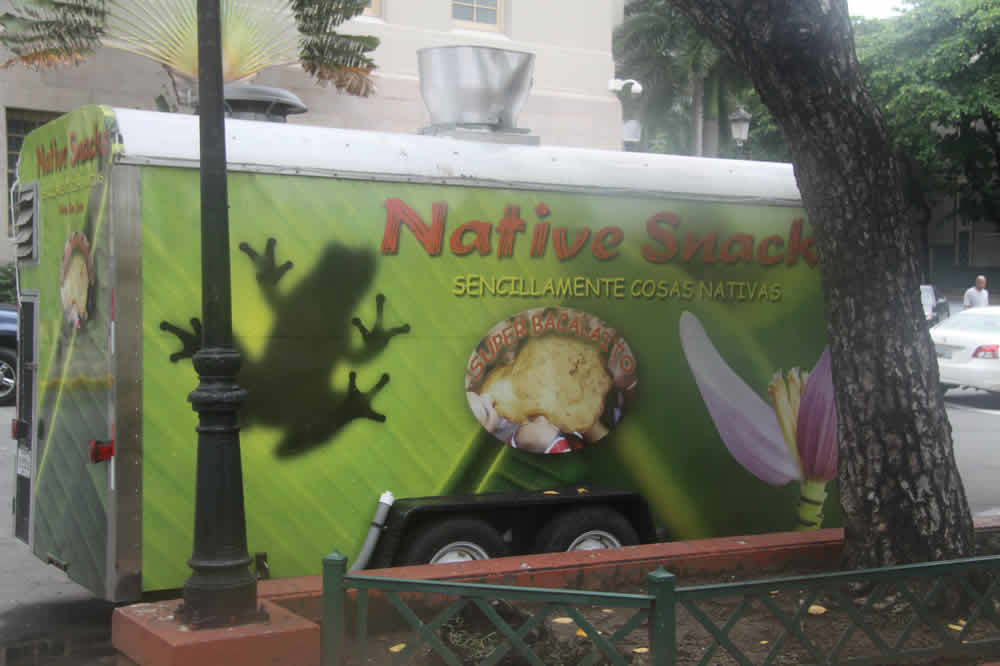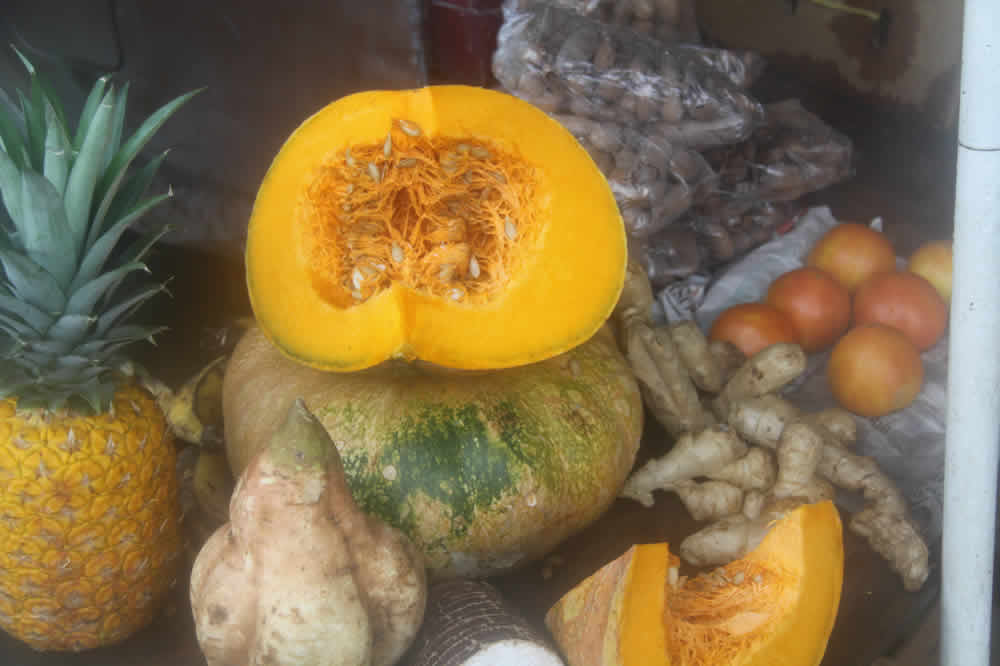 Watch out for the words "Native" and "Traditional." In Puerto Rico, for example, "traditional" food may consist of tropical fruits (right, fruit at a roadside stand), but among many people, it can mean "fried" and features wheat flour and other non-indigenous ingredients. This "Native Snacks" van in Old San Juan featured fried foods and sugary "smoothies" with no real fruit. NEW: Puerto Rican Foods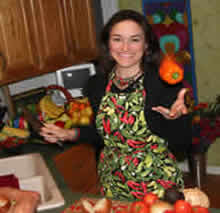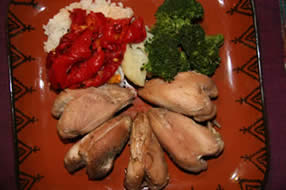 Me chopping vegetables and western Oklahoma quail Josh got in mid-November, served with steamed vegetables and rice.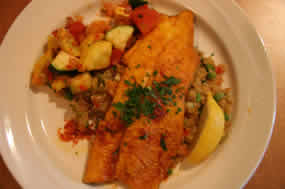 This yummy South American lunch was prepared by Chef Jana in the KU cafe, Impromtu, for my Indigenous Food and Health Class. Seared Trout "a la plancha" on a bed of quinoa fried "rice" garnished with squash salsa. The sauce is comprised of butter flavored with garlic and rocotto (Peruvian red pepper, med heat level.) The quinoa is made like fried rice and the squash salsa has zucchini, yellow squash tossed with yellow onions and tomatoes.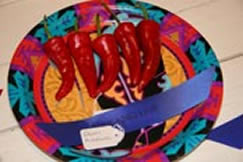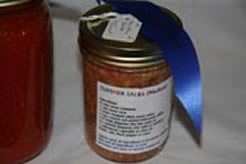 Devon's Crimson Red Peppers and Summer Salsa
won 1st Place at the 2008 Vinland County Fair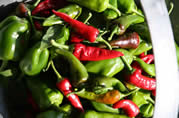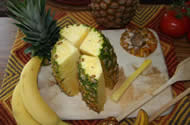 Above: October pepper harvest and "step one" of making grilled pineapple. *Bananas are not indigenous.
Look at the Native American Food Guide at http://www.aaip.com/tradmed/tradmedfoodguide.html that gives lists of types of "common" foods that might be eaten everyday to satisfy nutritional requirement alongside lists of traditional tribal foods that can be used as substitutes. For example, in the bread group one could use cattails, dried corn, lukameen, and wild rice.