Traditional Indigenous Recipes
Vegetable Saute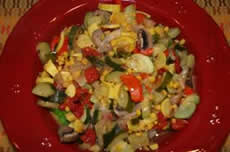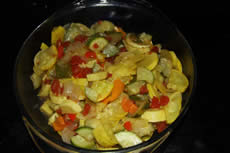 l: a variety of vegetables; rt: mainly squash. Prepare both the same way.
This is a quick and easy way to eat your vegetables. Take any combination of vegetables (or just one vegetable) you like:

Ingredients:
2-3 yellow squash sliced lengthways
2-3 zucchini sliced lengthways
2 cups yellow, orange and red bell peppers
1-2 cups sliced mushrooms
3 large sliced tomatoes
*1 cup broccoli florets
*1 cup cauliflower
Heat 1T vegetable oil in a skilletover medium heat.
Cover the pan with one layer of vegetables, sprinkle with a favored condiment such as pepper, garlic, oregano, etc., then cook over medium heat and turn after two minutes.
Turn to low, cover and simmer until vegetables are tender.
These vegetables also work well in a George Foreman grill. Spray the thin-sliced vegetables with vegetable cooking spray and sprinkle with spices before cooking.
*Old World ingredient