American Indian Health and Diet Project
since 2006
The goals of the AIHDP are to bring to light the health problems faced by indigenous peoples, to understand how we came to our unhealthy situations and what we can do about them. You will find no fry bread recipes here! This site also focuses on connecting with the natural world, how to extablish backyard and butterfly gardens, and how to prepare delicious meals with nutritious ingredients you can grow yourself, or purchase from farmers' markets. You do not have to be a chef! Historically, we ate simply and we should continue that tradition.
This website is based on my book, Recovering Our Ancestors' Gardens: Indigenous Recipes and Guide to Diet and Fitness. University of Nebraska Press, 2005. Now being revised and expanded, including a curriculum guide!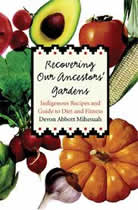 This book won the Special Award of the Jury of the Gourmand World Cookbook Awards (along with Martha Stewart and Maya Angelou) and was Finalist for Best in the World Cookbook.
Also see my Facebook page, Indigenous Eating, for more food ideas. Lots of new dishes! Below, venison meatballs and spaghetti squash; corn, mesquite, chia, and amaranth cakes topped with persimmon and mulberry mash
*NOTE*: Fry bread on this site refers to fried white flour that most readers have encountered at Native events. It does not refer to breads made by tribes before the introduction of wheat, such as: corn, shuck, sour, persimmon, acorn, hickory, sunflower, pumpkin seed, potato, bean, mesquite, peanut, bamboo vine, camas, or cane breads
Medicinal Plants Used by the Five Tribes (Cherokees, Chickasaws, Choctaws, Muscogees and Seminoles)
Check out my Environment and Garden blog, Yakni Achukma (The Good Land) http://thegoodland-dmihesuah.blogspot.com/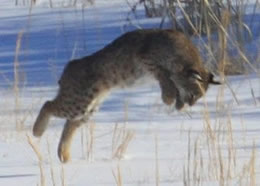 A bobcat pounces on a field mouse behind my neighbor's house.
A Tour of the Baker Wetlands in Lawrence, KS: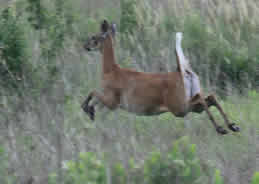 Mihesuah's recent Publications, interviews, and Writings About Indigenous Foods:
Available now! Indigenous Food Sovereignty in the U.S.: Restoring Cultural Knowledge, Protecting Environments, and Regaining Health, ed. with Elizabeth Hoover, For University of Oklahoma Press. Contributors include: Brenda F. Asuncion, Steven Bond-Hikatubbi, Carrie Cannon, Kevin Chang, Gerald Clarke, Nephi Craig, Pat Gwin, Wallace K. Ito, Winona LaDuke, Melanie M. Lindholm, Denisa Livingston, Virgil Masayesva, Tisha McNaughton Pattison, Brit Reed, Martin Reinhardt, Sean Sherman, Chip Taylor, Devon G. Peña, Valerie Segrest, Wayne C. Tanaka, Dennis Wall, Elizabeth Kronk Warner, Rowen White, Kyle Powys Whyte, Kawika B. Winter, Brian Yazzie, and Charles K. H. Young.
"Comanche Traditional Foodways and the Decline of Health," in Indigenous Food Sovereignty: Restoring Cultural Knowledge, Protecting Environments, and Regaining Health. (Norman: University of Oklahoma Press, 2019), 223-252.
"Nephi Craig: Life in Second Sight," in Indigenous Food Sovereignty: Restoring Cultural Knowledge, Protecting Environments, and Regaining Health. (Norman: University of Oklahoma Press, 2019), 300-319.
Plenary Speaker, "A Model of Food Traditionalism," and session speaker, "Backyard Gardens," Kansas Tribal Health Summit (THS), Prairie Band Potawatomie Conference Center, August 20, 2019.
John Niccum, "Indigenous Food Sovereignty Examined in New Book," July 31, 2019,
https://news.ku.edu/2019/07/31/indigenous-food-sovereignty-examined-new-book-1
"Indigenous Eating," Central Standard, radio (Begins at 33:14.) https://www.kcur.org/post/seg1ebate-kc-seg-2-indigenous-eating#stream/0
"Kansas: Be Kind to the Land," in "These Five Cuisines are Easier on the Planet," New York Times, April 3, 2019.
"Choctaw Historian at KU Restoring Cultural Knowledge Through Food, Family, Fiction," Lawrence Journal World, April 14, 2019.
Invited Speaker, "Food Sovereignty," S.T.R.I.V.E. Indigenous Foodways Forum, Phoenix Indian School, May 21-22.
"Pick a Pawpaw: America's Forgotten Fruit," Gastropod podcast, February, 2019.
Keynote Speaker: "'Everything We Need': A Model of Indigenous Food Sovereignty," Annual American Indian and Indigenous Collective, University of California-Santa Barbara, March, 2019.
Speaker, "We always raised good gardens": Benefits of the Five Tribes' Traditional Backyard Gardens," NAISA Annual Conference, University of Waikato, Aotearoa, New Zealand, June, 2019.
Speaker- Seeds of Native Health Second Annual Native American Nutrition Conference, Mystic Lake Casino Hotel, Prior Lake, MN, "Effects of Removals and Relocations on Food Access and Nutrition," September 18-20, 2017.
"Sustenance as Culture and Tradition: Teaching About Indigenous Foodways," in Kristopher Ray and Brady DeSanti, Understanding and Teaching Native American History (University of Wisconsin Press).
"Searching for Haknip Achukma (Good Health): Challenges to Food Sovereignty initiatives in Oklahoma," for American Indian Culture and Research Journal's Special Issue on Food Sovereignty. v. 41 #3 (2017): 9-30.
"Historical Research and Diabetes in Indian Territory: Revisiting Kelly M. West's Theory of 1940," American Indian Culture and Research Journal 40 #4 (2016): 1-21.
"Cranberry sauce, fry bread and gratitude? Meh, say tribes," https://www.joomag.com/magazine/pr-for-people-monthly/M0547661001342721936
"Comanche Traditional Foodways and the Decline of Health," Great Plains Journal 50 (2016), forthcoming.
"Indigenous Health Initiatives, Frybread, and the Marketing of Non-Traditional "Traditional" American Indian Foods," Native American and Indigenous Studies 3/2 (Fall 2016): 45-69.
Faculty Dean's Lecture Series, Faculty of Architecture, University of Manitoba, Winnipeg, "Indigenous Gardens and Sustainability Initiatives on Campuses and Communities," October 6, 2015.
"Sustenance and Health among the Five Tribes in Indian Territory, Post-Removal to Statehood," Ethnohistory 62#2 (Spring 2015): 263-284
Star Tribune, "American Indians are embracing the "decolonized diet": http://www.startribune.com/lifestyle/health/273612961.html?page=1&c
Al Jazeera, "Eating Indigenously":  http://america.aljazeera.com/articles/2013/10/24/eating-indigenouslychangesdietsandlivesofnativeamericans.html
National Geographic, "Cranberries: A Thanksgiving Staple": http://news.nationalgeographic.com/news/2013/11/131127-cranberries-thanksgiving-native-americans-indians-food-history/
"The Garden Meal," in Linda Murray Berzok, ed., Storied Dishes: What Our Family Recipes Tell Us About Who We Are and Where We've Been (Santa Barbara: ABC-CLIO, 2010), pp. 57-60.
Interview with Spezzatino Magazine "Springtime in the Ancestors' Gardens: Native Health and Finding Comfort," at www.Spezzatino.com vol. 4, 2008.
The Chronicle Review, "Saving American Indians' Diets," April 25, 2010: http://chronicle.com/article/Decolonizing-American-Indians/65193/
The Oread, "Mihesuah's cookbook to compete for title of 'Best in the World,' 30#11, February 20, 2006.
Pantagraph.com, "Altering Your Intake: Eliminate the Processed Foods; return to roots," November 27, 2007.
The Daily Vidette, "Speaker talks about Native Americans' eating habits," November 6, 2007.
KU Today Headline, June 5, 2012: "KU historian touts benefits of foods indigenous to Americas": http://archive.news.ku.edu/2012/june/5/indigenous.shtml 
Kansas Alumni magazine story: "Culture Cues: Historian Targets Indigenous Diet as Food for Thought," Kansas Alumni, No. 5, 2012. pp. 12-14.
Lawrence-Journal World, "Simple Sustenance: Confronting Obesity and dietary problems by returning to our roots," February 15, 2006: D1-2.
Editorial Comment: "Decolonizing Our Diets By Recovering Our Ancestors' Gardens," American Indian Quarterly 27: 3/4 (2003): 807-839.
"The Tamfuller Man," First prize for Flagstaff Live! First Annual Short Story Contest. (April 17-30 1997): 25-6.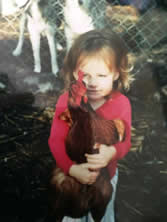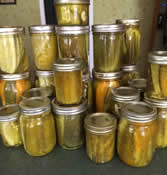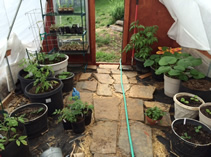 Look at my page, A Run in Baldwin City, to see how to make your workout more fun by chronicling it.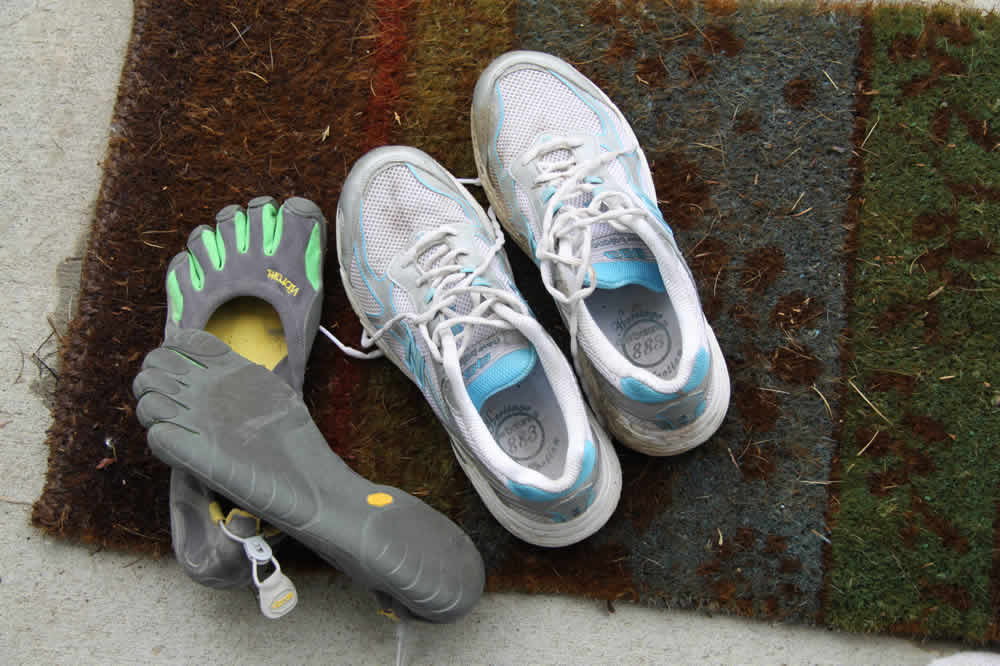 About the American Indian Health website
It is overseen by Devon A. Mihesuah, enrolled citizen of the Choctaw Nation of Oklahoma.
My website link
All website photographs by Devon A. Mihesuah.