Sweet Potato Salsa and Baked Fries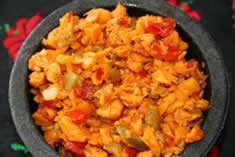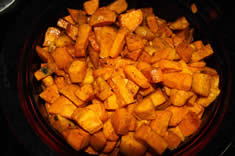 You can make a few dishes with sweet potatoes from the same first steps. For salsa or fries:
Ingredients:
4 medium sweet potatoes
4 scallions or one large sweet onion
3 raw jalapenos or 1/2 c pickled ones. If you use raw ones, remove the seeds
1 red bell pepper, chopped and sautéed
1-2 large tomatoes (optional)
*Cumin to taste
Chili powder to taste
Black pepper and salt to taste
*Garlic to taste
*Juice of 1 lime (for salsa only)

Preheat oven to 350 degrees.

Peel the potatoes and finely dice. Or pulse into a rough chop. If you want fries, cut into strips, like a French fries

In a large bowl, put chopped potatoes and spices, drizzle olive oil on top then mix. If making Fries, it is easier to put them in a baggy and shake with oil, pepper, cayenne, cumin, etc.

Spread potatoes onto cookie sheet and bake for 20 minutes or until tender.

Meanwhile, put jalapenos, sautéed red pepper and chopped tomato in food processor, or chop finely with knife.

Salsa: After potatoes are done, gently mix all ingredients together in one large bowl. Pour lime juice over the top. Taste and add spices as needed. Refrigeration is optional.
Fries: These are done. No need to add anything else.