Blog
May 5, 2009
April showers bring May flowers. Spring rains have caused plants to sprout, the bugs to come out and the birds to start laying eggs. My whole family has been working in the yard when it's not raining. It's time to break out the ice packs for sore backs.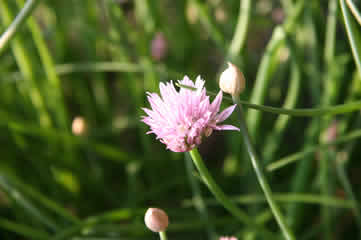 The chives in the whiskey barrel have taken over, along with their little pink blossoms.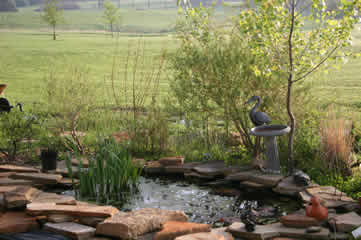 Plants around my small pond seemed to have come back almost overnight. Already the pond is full of frogs, tadpoles, snails and waterbugs.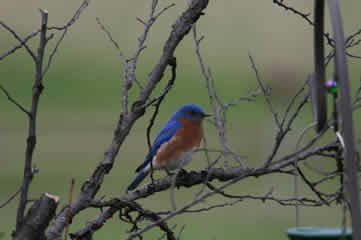 One of the bluebirds that made a nest in the bluebird box likes to sit in the tree close to the porch.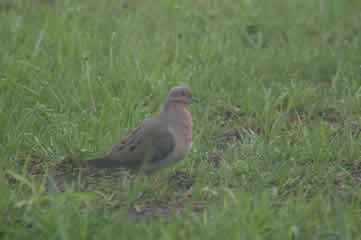 This skittish mourning dove landed by the back door and starting singing. I had to take the shot through the window so he wouldn't fly away.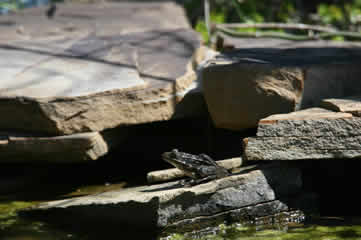 One of the pond frogs we kept over winter is heppy to sit in the sun.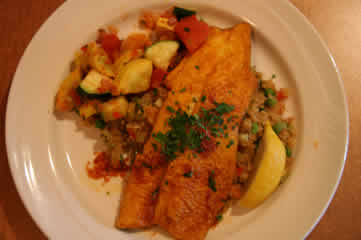 This yummy South American lunch was prepared by Chef Jana in the KU cafe, Impromtu, for my Indigenous Food and Health Class. Seared Trout "a la plancha" on a bed of quinoa fried "rice" garnished with squash salsa. The sauce is comprised of butter flavored with garlic and rocotto (Peruvian red pepper, med heat level.) The quinoa is made like fried rice and the squash salsa has zucchini, yellow squash tossed with yellow onions and tomatoes.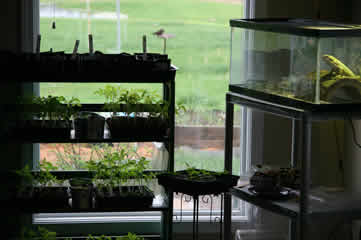 Draco the Dragon has a good view of the backyard and the growing sprouts.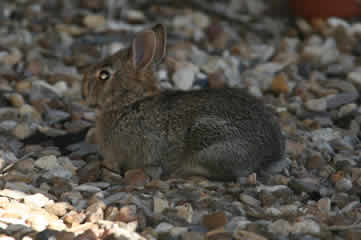 This baby bunny is about the size of a baked potato. He's already nibbling on my lettuce so I started leaving out vegetable scraps for him.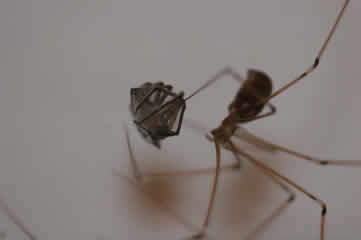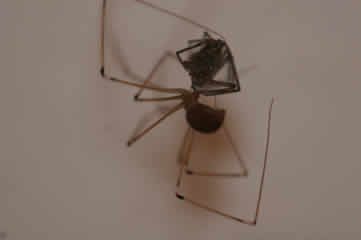 Lutie, the long-legged basement spider, captured a smaller spider and rolled it into a ball, then drained it. She then dropped the husk onto the floor.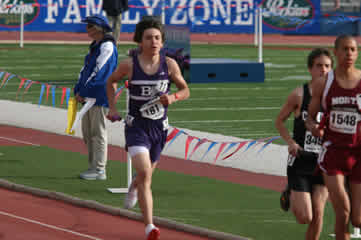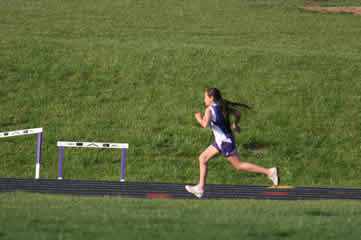 Spring sports: Baldwin High School freshman Tosh ran in the KU Relays this year, while Ari runs 7th grade track.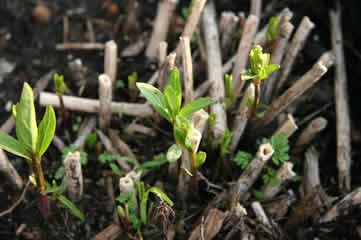 I cut back last year's milkweed and this weekend the sprouts came up.