Bean Salsas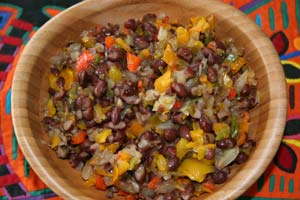 Bean salsas can vary in the type of beans used, but also in the kinds (and heat indexes) of the peppers and/or chiles.

Ingredients:
Either 6 cups of cooked pinto beans or 6 cups of black beans (from your own pot is best, but if you used canned, be sure to thoroughly drain them)
1 large purple onion, chopped
1 cup peeled and roasted green chilies (mild, medium, hot or extra hot is your choice), chopped
1-2 fresh jalapenos (for hot salsa) or ½ c pickled jalapenos (mild or medium), chopped
*1 tablespoon vegetable or olive oil
*garlic to taste
salt to taste
black pepper to taste
Like with the tomato salsa, you can either put these ingredients (except the beans) in a skillet to sauté, or mix them together with out cooking. Put ingredients into food processor or blender and mix until desired consistency is reached. Serve with tortilla chips.