Breakfast Potatoes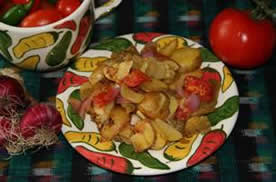 I call these "Breakfast Potatoes" because we have these in morning several times a week. If you are diabetic, you have to go slow with the amount of potatoes you eat, but all you have to do with this recipe is cut back on the spuds and add more of the other ingredients in addition to meat.

Ingredients:
4 cups cleaned and sliced small or new potatoes (I used Yukons in the above picture)

½ cup mushrooms

½ cup onions

½ tomatoes

½ cup red bell peppers

½ cup hot peppers of your choice

½ cup green chilies

2 T grapeseed oil or *olive oil or (vegetable or turkey broth)

Seasoning to taste (we like lots of garlic and extra powdered onion, plus some Cajon Seasoning)

Optional Ingredients:

Shredded meat (turkey, ham, chicken, venison, etc.)
Directions:
Heat oil in skillet over medium heat.
Place your potatoes in skillet and cook for about 8 minutes, turning occassionally. Add the rest of the ingredients and cook until heated all the way through.

This goes great with any meal and is a good side dish to meats and fish.
*Old World Ingredient