Pan-Cooked Fish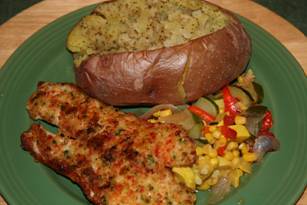 Pepper-Crusted Catfish, Vegetable Saute and Potato with Pepper
This recipe works well with a variety of fish: catfish (the favorite at my house), trout, bass, swordfish, tuna, etc.

Ingredients:
4 fish fillets, about 1.5 lbs.
3 T vegetable oil
1 diced white onion
4 green chilies, roasted, peeled and chopped
4 tomatoes, peeled, seeded and sliced
1 cup sliced mushrooms
Salt and pepper to taste
*garlic to taste



To prepare the tomatoes:
Cross-hatch cut the tomatoes at the bottom (make a cross).
Place tomatoes in bowl and pour boiling water over them.
After setting for three minutes, take out tomatoes with spatula or slotted spoon, place them in bowl of cold water and then drain.
Remove the tomato skins. They slide off easily. Cut them in half and gently squeeze out the seeds.
Chop the remaining fruit into cubes.

To prepare the topping:

In small pan, heat 1 T of vegetable oil over medium heat.
Add chopped chile, onion, mushrooms and lime juice; cook for about 3 minutes.
Add tomatoes.
Cook for ten more minutes, stirring frequently.

To prepare the fish:
Add vegetable oil to frying pan (olive oil optional) and turn to medium high heat.
Place two fillets at a time in skillet and cook 4-5 minutes on each side, or until flaky.
Option is to add the other ingredients to the skillet after you turn the fish the first time.

*Old World ingredient