Guacamole Dip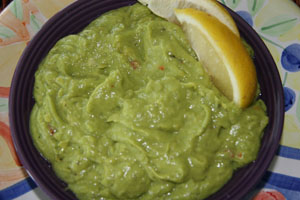 Avocados are a rich and highly nutritious fruit that can be mixed into a dip or sliced for salads or on sandwiches. Avocadoes are high in calories, so be aware of how much you consume. This recipe is the basic guacamole dip and can have many other items added to it, although we like it as is.

Ingredients:
2-3 ripe avocadoes
1 cup diced ripe tomato
¼ cup finely chopped sweet onion
*1 finely chopped garlic glove to taste
½ cup chopped roasted and peeled green chiles (optional)
*juice of ½ lime
salt to taste
pepper to taste

Halve and pit the avocadoes and scoop insides into a bowl.
Add remaining ingredients and mash with a fork or potato masher.
Serve with homemade tortilla chips.
*Old World ingredient