Corn, Bean and Turkey Bread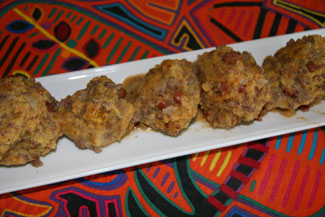 This is a bread, but like the Everything Salad, it can suffice as a meal.

Ingredients:
4 c corn meal

1 lb. lean ground turkey

2 cup hot water

2 cup cooked and drained pinto beans

½ t baking soda

½ cup chopped sweet onions

salt to taste

pepper to taste

*garlic to taste

In a skillet or frying pan, sauté the turkey until brown along with spices.

Mix together the turkey with the other ingredients and form into desired shape (balls work best) and drop into boiling water.

Cook approximately 30-40 minutes.

Using a spaghetti pot with a colander that fits into the pot makes it easy to drain—just lift the colander out after cooking and hold over the sink to drain.

Serve with a salsa or marinara spaghetti sauce. This dish is nice paired with the vegetable sauté.
*Old World Ingredient