Fruit Cookie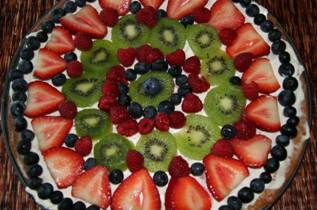 There are many variations of the dessert on the web, but this recipe tries to keep the focus away from fat and sugar and to focus on the fruit.

My daughter Ari created this cookie when she was 11. It's topped with blueberries, strawberries, raspberries and kiwis.

Ingredients:
*1 roll of low-sugar cookie dough
*1 8 ounce pack no-fat cream cheese
*Juice of ½ lemon
½ to 1 cup of sliced fruit such as:
strawberries
blueberries
raspberries
*kiwis
*Mandarin orange segments (pat dry)
[Note that bananas will turn brown and pineapple is too acidic to work well on this cookie]
Allow cream cheese and cookie dough to warm to room temperature.
Roll out dough onto small pizza pan
Cook in 350 degree oven until dough turns light brown—only about 5-9 minutes. Remove and let completely cool.
Mix cream cheese and lemon juice by hand with fork or spoon until the cream is smooth. When cookie is cool, spread the cream cheese over the top of the cooked dough.
Use your imagination to decorate the top with the sliced fruit. Cover and refrigerate until ready to serve.