Mango Salsa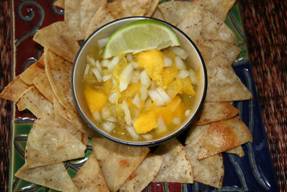 Mango Salsa with Tortilla Chips
Ingredients:
*2 ripe mangoes
1-2 white onion
2 roasted and peeled chilies: your choice (Fresno, green, garden salsa, etc.)
*small bunch of cilantro
*Juice of one lime

Cut one of the mangoes length-ways, along the side of the pit.
Then slice off the other side.
Cut the flesh in a cross-hatched pattern down to the skin, then cut off the squares.
Cut off the remaining pieces of flesh on the pit.
Put mango into serving bowl.
Chop the chilies, onion and cilantro.
Mix ingredients in serving bowl with mango and gently fold. Sprinkle with salt and pepper to taste.
I prefer the salsa room temperature, but most people like it chilled for two hours before serving.
Can be stored for up to a week, covered, in refrigerator.
*Old World ingredient