Fajitas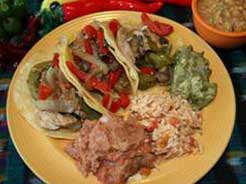 *Chicken, red and green pepper, onion and mushroom fajitas
with corn tortillas, guacamole, low-fat vegetarian refried
beans and tomato rice. Corn salsa on the side. No cheese.
I cooked the chicken, then put all the other ingredients in
the pan with it and cooked them together. Simple.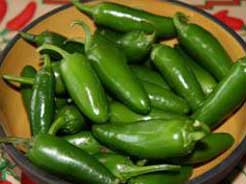 Fajitas go great with jalapenos
True fajitas consist of grilled skirt steak and vegetables served on a corn tortilla. The dish has evolved to include any number of ingredients: flour tortillas, venison, chicken, shrimp, fish, tofu, turkey and wide variety of vegetables to accompany the meat.

Fajitas are a wonderful solution for leftovers.

Restaurants often serve fajitas on a hot iron skillet ("sizzling," which means there is a lot of fat used in preparation), with meat in one pile and the onions, guacamole, peppers, etc. in separate mounds so you can pile on the goods in the order you like.

The preparation is not difficult. Use a skillet or grill to cook your ingredients. Warm the tortillas (or better yet, use the ones you freshly made yourself).
Ingredients:
*Chicken

Turkey (such as your turkey dinner leftovers)

Elk

Venison

Bison

Shrimp

Catfish, tilapia, salmon or other firm-bodied fish

*Tofu

Crab

Onions

Peppers

Squash

*Garlic

Tomatoes

Potatoes

*Leeks

2 T olive oil or turkey broth

Black pepper

Salt

Cajon seasoning

Corn tortillas

*Worcester Sauce. This contains sodium, but I find it to be an effective "fajita sauce." You can marinate your meat overnight with the sauce, plus garlic and black pepper, or just season as you cook it.
Another marinade option: Lime juice mixed with crushed garlic, cilantro and vegetable oil.

How to Prepare:

Cook your meat either on a grill or, if using a skillet, heat the olive oil or broth. Cook until meat is tender. Sprinkle the meat with Worcester Sauce.

If you use fish, do not fry the meat. Restaurants fry fish for "fish tacos" because it holds the meat together. Use a firm-fleshed fish and fan cook with olive oil.

Heat oil in skillet. When hot, add onions, mushrooms, peppers, etc. and cook until tender.

If you don't have time to make your own tortillas, microwave corn tortillas covered with a wet paper towel on a plate. When you remove them, either put inside foil or wrap in a warm towel to keep warm and moist. The best thing to use is a tortilla warmer.

It's up to you how to present the fajitas, either assemble the ingredients all at once, or put everything on separate plates or in bowls to allow your eaters to put them together.

Use whatever side dish you like, such as guacamole, beans, salsas, lettuce, tomato, peppers, etc.
*Old World Ingredient