Tomato Salsa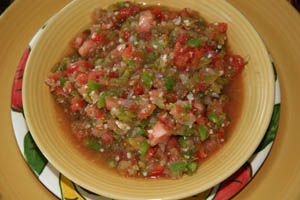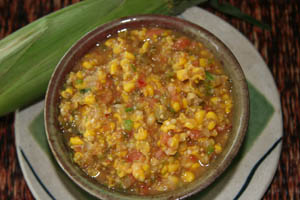 Salsas with tomato and corn bases; both contain sauteed onions, bell pepper, jalapenos, garlic, salt and black pepper.
I also call this Summer Salsa because I can make this from almost everything I grow in my garden. In colder months we have to substitute grocery store tomatoes and corn; look for "hot house" tomatoes and "sweet" corn. My family eats gallons of salsa. Like the green chiles, salsa goes on almost everything and is a staple in our home.

Ingredients:
6 cups chopped tomatoes (we like the small cherry tomatoes, but the larger ones work well too, as long as they're sweet) either peeled or unpeeled (I prefer the unpeeled)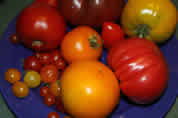 I grow a variety of tomatoes; mix them up in your salsa
1 cup sweet corn
1 large white onion
1 cup peeled green chilies (mild, medium, hot or extra hot is your choice)
1-2 fresh jalapenos (for hot salsa) or ½ c pickled jalapenos (mild or medium)
black pepper to taste
*1 tablespoon vegetable or olive oil
*garlic to taste
salt to taste

Optional:
½ cup cooked and drained black beans

You can add mix all these ingredients together without cooking them first, but I prefer them to be lightly sautéed.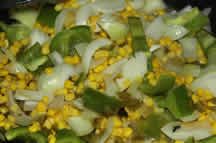 above: Heat oil in frying pan over medium heat. When hot, add onions, peppers and garlic. Saute five minutes, stirring occasionally.
Add saute to corn and tomatoes and season to taste.

Add ingredients to food processor and chop to desired consistency.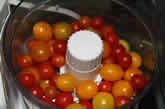 you can place small ones in the processor

Experiment with how smooth or chunky you like your salsa. Add and subtract ingredients according to the size of your processor and to what you like the best.


*Old World ingredient