Pinto Beans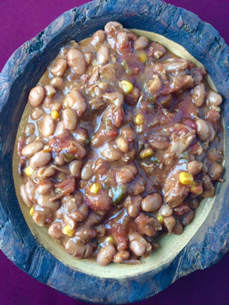 Top:
Pinto beans cooked overnight in a crock pot with spices and served with Choctaw banaha.
Middle:
Pintos mixed with venison, red peppers, and black pepper. Bottom; Leftover Thanksgiving wild turkey, pintos, dried tomatoes, sweet corn, green chilies.
A crock pot of pinto beans is a winter staple. If you make too much, you can always freeze the leftovers in small containers for individual servings. Beans are a wonderful all around food that have no cholesterol, and are high in fiber, folate, protein and other vitamins and minerals, but low in fat and sodium.

Ingredients:
4 cups dried pinto beans
8 cups of unsalted turkey or vegetable broth or water (see the Vegetable, Turkey and Game Stock recipe link on the right)
One large chopped white onion

One cup diced dried or fresh tomatoes
Half cup chopped green bell pepper or jalapenos
Chili powder to taste
Black pepper to taste
Salt to taste
I also add a variety of other ingredients, depending on what I have available: hominy, venison,
roasted green chilies, sweet corn, tomato powder.

Soak dried pinto beans in large pot over night (placing beans in a spaghetti colander then putting them in the pot of water makes it easier to drain).

In the morning, rinse and drain then place ingredients in crock pot along with broth and spices. The longer you can cook this, the better the beans taste. Monitor the liquid level--after a few hours you may need to add more.

Serve over corn bread and top with salsa.