Grilled Pineapple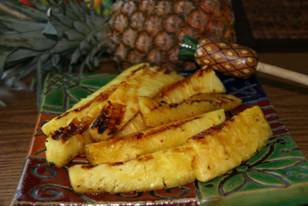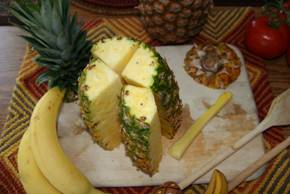 Grilled pineapple is an easy, sweet treat and you can quickly prepare it to cook after the steaks are done. This can be served as a separate dessert, or along with your meat dish.


Ingredients:
One pineapple
1 cup pure maple syrup (much of the sugar ultimately burns away, but the flavor remains)
½ T *cinnamon

Cut off the pineapple top and bottom (see picture above)
Cut the fruit down the center lengthways, then quarter it.
Slice off the tough middle section from each quarter
Cut off the tough skin. You may need to use the end of a potato peeler to dig out the embedded eyes (although fingernails work, too).
Cut into long slices (right)
Marinate the slices in a large bag or bowl with one cup of maple syrup.
Soak the fruit for at least four hours, but no longer than 24 hours.
Place on hot grill; cook each side for about 1-2 minutes.

Don't overcook!

Many like this with *ice cream, but it is perfect by itself.
*Old World Ingredient